Pet Travel Crates
If you are planning to fly with your pets, you will need to get them airline approved flight crates. In order for the pet travel crates to be airline approved, they must comply with the IATA standards. While some travel crates meet these standards, there are, unfortunately, also some that don't.
Your pet's flight crate should meet the guidelines of the airline that you're planning to fly with. In addition, the flight crate should be big enough for your dog or cat. These strict requirements are to ensure your pet stays safe and comfortable throughout the flight.
The following article will explain about airline approved travel crates for dogs and cats.
What Are The IATA Standards?
IATA stands for the "International Air Transport Association". It's the trade association for the world's airlines.
One of IATA's main roles is to help formulate policies in the aviation industry. Therefore, in order for a pet flight crate to be airline approved, the crate needs to meet the standards that were set by IATA.
It is important to note that IATA doesn't certify, approve, endorse or sell any particular pet flight crates. They only set the standards.
Arriving at the airport without airline approved flight crates for your pets will most likely cause you a lot of problems!
Before Purchasing A Pet Travel Crate
Since we are a pet transport company that specializes in pet transport around the globe, we would like to emphasize to you that purchasing a travel crate for your pet is, relatively, a marginal issue. Your first and main concern should be getting the right documents in order.
It's recommended to check a couple of months in advance, what documents your pet will need in order to travel abroad.
The procedures for transporting pets varies from country to country. You must know exactly what is required of you in your destination country.
In general, most countries require a pet to have a microchip, a rabies vaccine, blood tests and a health certificate (done prior to the flight).
How To Measure My Pet?
Purchasing the right size crate is usually where most pet owners do mistakes. Most of the times, pet owners purchase a crate that is too small for their pet.
Therefore, before purchasing a flight crate, you should measure your pet's height and length as follows:
Height – from the top of the pet's head to the ground. We recommend you place your pet next to the wall, mark the highest point and then measure from that point till the floor.
Length – from the tip of the nose to the root of the tail (without the tail itself). From our experience, it will be easier to measure the length of your pet if you will do so while your pet is laying on the floor.
It's very important not to "round-up" (or down) the results. The precise measurements will allow us to find the perfect sized crate for your pet.
Special Airline Crates
Some pets can't fly in the regular plastic flight crates. For example, "dangerous" dogs (such as a Pitbull) mostly require a special reinforced wooden crate. These crates must be built in a very specific way in order to be airline approved.
Such crates aren't sold in regular pet stores. Therefore, if you must have one, you will need to build it with a carpenter.
Can any carpenter build such a crate? Basically, yes, but you need to make sure the carpenter knows the IATA regulations. Chances are that you won't find such a carpenter and therefore, we advise you to do so with a pet shipping company that specializes with such matters.
It is important to note 4 remarks about these wooden crates:
Building such a crate is very expensive. It will cost you much more than purchasing a regular plastic flight crate.
These travel crates are super heavy! They usually don't weigh less than 40 kg!
Usually, wooden crates can't be taken apart. Therefore, it is very hard to move them. You will need a big car to get such a crate to the airport.
There are airlines around the world that will not fly such a big/heavy crate.
If you need a special flight crate, please feel free to contact us and we will send you a relevant quote. We have extensive experience in building such crates that meet the IATA standards.
Airline Approved Flight Crates – The Basic Requirements
In general, most airlines follow the same pet transport regulations and requirements. All airline companies require that there will be enough space for the pet to sit, stand (without touching the top) and turn around freely. In addition, you are required to make sure that the flight kennels have: water and food bowls, diapers pads, bolts and more.
To make sure your pets aren't stopped from boarding their flight, you are required to abide by the following regulations:
The flight crate must be made out of rigid plastic or wood. Wire-mesh cages are not allowed.
If your pet's travel crate has wheels, they must be
The floor must be made of solid material, as well as being leak proof. It should contain material to absorb liquids.
An airline approved flight crate must be escape proof. Keeping this in mind, the crate must have ventilation holes at least on four sides.
Most airlines allow only one pet per travel crate.
Toys and bones are prohibited for the safety of your pet/s.
The kennel should be labeled with the words "LIVE ANIMAL".
Training Your Pet To Like The Flight Crate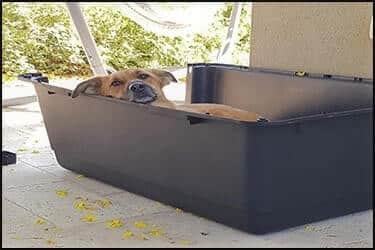 Getting your pet accustomed to the flight crate isn't a simple task, which could take a lot of time and effort. Even so, it's still a very important task!
Pet owners should do their best to get their pets accustomed to their crates before the flight. A pet that isn't used to the crate may get injured while trying to escape.
Furthermore, the crate is your pet's safe place throughout the flight. If you want your pet to be as comfortable as possible, acclimate him/her to the crate as soon as possible!
The training process may take anywhere from a couple of days up to a couple of weeks or even months. The time frame depends on a number of factors, such as: your pet's temperament, age, past experiences, the pet owner's persistence and more.
Whatever happens, don't give up!
Purchasing Pet Travel Crates
Pets2Fly will provide you with all the relevant information so that you could buy airline approved flight crates wherever you want.
We would like to note that we sell airline approved crates. We only have at our disposable pet travel crates that are airline approved.
In addition, our pet flight crates come fully prepared for flight, that is, they are sold with all the necessary accessories required to transport pets. You won't need to purchase anything else to make the crates airline approved. This will save you time and of course, money.
If purchased from us, you will receive explanatory booklets of how to accustom your pets to their travel crates and how to prepare the crates for flight (with all the accessories you will receive from us when purchasing the crates).
With our help, you'll reach your flight with crates that meet the international standards, meet the requirements of your airline and which are of course, suitable for your pets.
Give us a call and we will be more than happy to assist you in purchasing the best suited crate for your pet!